Posting a screenshot is fairly easy, and i'm going to tell you how its done.
There are multiple ways of getting your memorable moments posted up on the forum for everyone to see.
The easiest way I feel to do this is using image hosting software available on this forum.
When you have an image taken from the game and saved on your compluter, simpy start a topic, write whatever you want to write, and when you want to add your image, click this icon ->

<- Its is bam smack in the middle of the toolbar under where you write your topic title.
Pressing that button will pop up the image hosting gizmo. (below)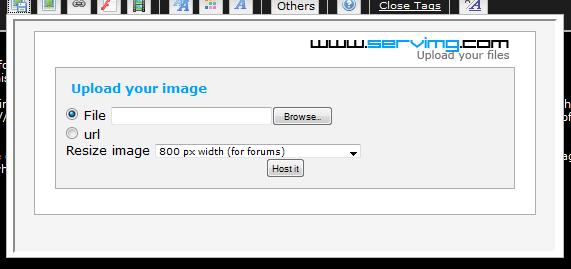 Using this handy piece of kit you have the option of either uploading an image from your own pc or enter a link to an image that your have hosted elsewhere on the web. Its recommened that if you dont already have the image hosted somewhere else, you'll need to upload the image from your pc, to do this, make sure you check the
'FILE'
option, then click the
'BOWSE'
button on the uploader. This will pop up your own directory from your pc. Rummage through your pc's directory and find the image you wish to host, once you have found it, double click it.
Doing this will close your directory window and text will appear in the text field telling the uploader where to to find the image from your pc.
Next, click the small black arrow (pointing down) on the dropdown box next to wher it says
'Resize Image'
and select
No
, This will prevent you image being resized when its uploaded. When your happy your ready to upload your image, click the
'Host it'
botton at the bottom of the uploader, and wait a few moments. After your image has uploaded, the uploader window will change and show you three different text boxes.
The top box contains the link to your image in a thumbnail link form (a small image in your post, and will link to the full size image when clicked). <-- recommened
The middle box contains the link to your image in its true form (It will be full size in your post)
The last box simply contains the hotlink, it will link your image in text form (no picture) in your post, clicking it will direct you to the image in full size.
All you need to do, is select how you want the image to be shown in your post, and copy the text from on of the three boxes, and paste the text in you post. The uploader will not dissapear at this point, to get rid of it, simply click the
Preview
button for the post to see what your post will look like with the added image.
Simply rinse and repeat if you wish to post multiple screenshots in your posts.